I wanted something special for the morning this weekend. But since we've been doing breakfasts on a regular basis, I knew it would have to be something beyond eggs-bacon-and-toast.
So I tracked down a recipe for apple muffins, printed it out, and headed to the kitchen. Only to realize that I didn't have half of the things I needed. I had to wing it, again. And then I decided to top them off with a crispy crumble-like topping. Luckily the muffins turned out amazingly well. I served them up, and my five-year-old excitedly told her daddy, "It's an apple pie…in a MUFFIN!" (She gets really stoked about new foods!)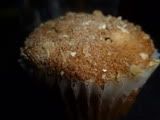 I wrote the recipe down quick, before I forgot it. (Please excuse the poor photo quality. I'm not a very good food photographer at any time of the day, but I'm not a very good ANYTHING that early in the morning!) And now I have to share it. It's just too good to keep to myself.
Apple Pie Muffins
Makes 2 dozen
4 apples-diced
4 1/2 cups of flour
2 teaspoons baking soda
1 teaspoon salt
2 eggs
1 1/2 cups cream (you could easily substitute milk…I just had more cream in the fridge than milk that morning)
1/2 cup of butter-melted
2 teaspoons vanilla extract
3 cups brown sugar-packed
Preheat your oven to 375 degrees F. Grease or line your muffin tin
In a large bowl combine flour, sugar, baking soda and salt. In a separate bowl combine the cream, eggs, vanilla and butter. Pour into the flour mixture and stir. When it's all combined, add the diced apple and stir until blended.
Fill your muffin tins nearly to the top. Sprinkle on your topping (see below). Bake for 20-25 minutes in your oven, or until the tops of the muffin spring back when lightly pressed.
Crumbly Topping
1/2 cup of flour
1/2 cup oatmeal
1/2 cup brown sugar
1 tablespoon cinnamon
2 tablespoons butter
Really, you just need to mix this up until it's crumbly.
I promise these muffins will be a huge hit on your breakfast table (or with coffee, or after dinner…or as an evening snack….you get the idea!)

Slightly Similar Nonsense: